Fridge-Filling Tips for the Ultimate Stay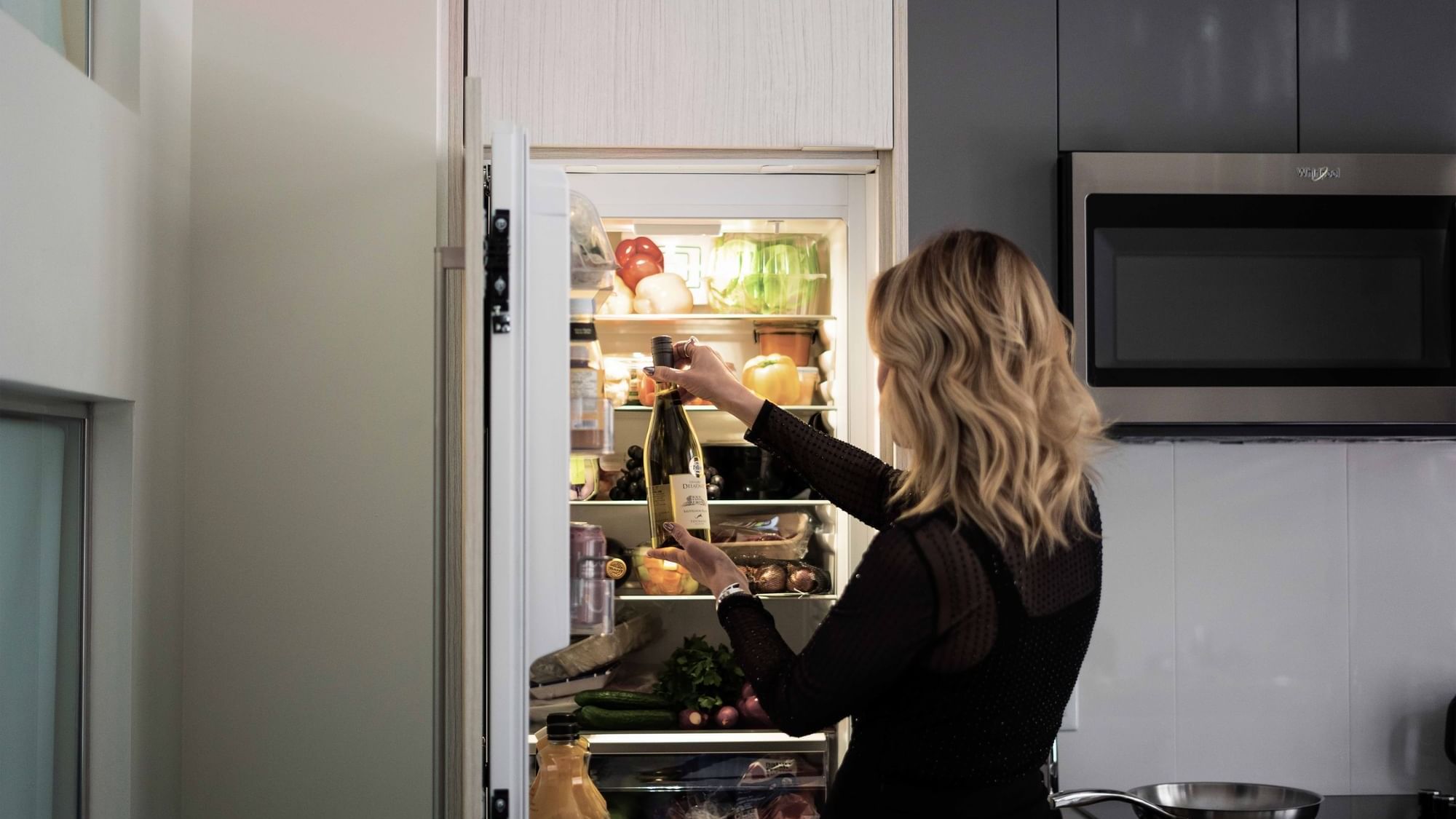 Picture this: You arrive at your suite after a long journey, and the first thing you see is a fully stocked fridge with all your favourite goodies - without you ever stepping into a grocery store. Sounds like a dream, doesn't it?
So, be sure to take advantage of our fridge-filling service and get your fridge stocked with the finest groceries sourced from our curated list of gourmet vendors - Jacobsons, Metro, Voilà, and La Bottega. Whether you're a wine connoisseur, a fitness enthusiast, or a snack lover, you can tailor your order accordingly and have your very own selection of items ready and waiting for you. In this article, we offer some tips to make the most of our fridge-filling service.
Plan Your Essentials in Advance
One of the most significant advantages of our fridge-filling service is that it saves you the time and energy of grocery shopping. Take a moment to plan what you need in advance. Consider your dietary requirements, preferences, and any specific items you'd like to have at your fingertips during your stay. Whether it's fresh fruits, dairy products, snacks, or beverages, having a list of essentials ready can help you customize your order.
Also, consider the number of days you'll be staying and outline the dishes you'd like to prepare. Think about breakfasts, lunches, dinners, and even snacks.
Local Delights
When staying at a new destination, it's the perfect opportunity to immerse yourself in the local culture and flavours. Don't miss the chance to cook up or try local delights such as Lobster Rolls, Tourtière or Bannock, which can provide a unique and delicious insight into the regional food scene from the comfort of your own suite. You can master these local favourites with ease and finesse in our fully stocked kitchen equipped with modern appliances - making the culinary possibilities endless.
Versatile Ingredients
Consider versatile ingredients that can be used in multiple recipes. For example, if you have tomatoes, onions, and bell peppers in your fridge, you can create a rich pasta sauce, a delicious frittata, or a savoury stir-fry!
Convenience Items
While cooking from scratch is enjoyable, there's no harm in using convenient items like pre-made sauces, frozen vegetables, or marinated meats. These shortcuts can save time and still result in delicious, home-cooked meals.
Don't Forget the Basics
It's easy to get carried away with exotic ingredients, but don't forget the basics. Make sure you have essentials like salt, pepper, cooking oil, and butter. These staples are the building blocks for many recipes!
Snacking
We can't forget those little moments of indulgence in some snacks. Why not indulge and treat yourself to some items that break away from your typical routine for a touch of pure delight? Whether you're looking to satisfy your midnight munchies or some sweet cravings. The selection is endless - from artisanal chocolates to popcorn or chips. For the health-conscious traveller, perhaps a piece of fresh fruit, yogurt, or nuts. Don't forget some beverages to quench your thirst, from refreshing sparkling water to your favourite soda, juice or even a bottle of champagne!
Katie from @yowcitystyle, chose the below kid-friendly snacks during one of her stays with us:
1. Butter-Flavoured Seasoned Popcorn
2. Pressed Juices
3. Sparkling Grapefruit Water
4. Fruits and Vegetable Platters
5. Potato Chips
6. Sour Patch Candy, Gummy Worms, M&M's
7. Butter Croissants
Private-Chef Experience
Elevate your stay by indulging in an exceptional private dining experience perfectly complemented by our fridge-filling service. We connect you to some of Ottawa's most extraordinary chefs, who will craft a menu to cater to your unique culinary desires. Delight in the comfort of your suite with your own personal chef-prepared dinner with your fully stocked fridge with your hand-picked ingredients. Whether it's a romantic dinner for two or a family gathering, this private chef experience ensures your stay is extraordinary.
Learn more about our personalized experiences here.
Our thoughtfully curated experiences are the cornerstone of an unforgettable stay, offering a level of convenience that is simply unmatched. With every detail planned for your comfort, you'll have more time for relaxation, exploration, or simply unwinding without the hassles of grocery shopping. So, take a deep breath, kick back, savour every moment of your stay and let us handle the rest!