A NEW KIND OF STAY
Elevate your travel experience
Reimagine how you travel at reStays. Experience our boutique condo-hotel's bright and spacious suites, including full kitchens, exceptional services, luxurious amenities, and a perfect location steps away from the Parliament of Canada, the Rideau Canal, and Ottawa's best museums and restaurants. Our balconies and floor-to-ceiling windows offer distinct views, including Queen Street, Sparks Street and the best-kept secret: our courtyard! Stay a few nights to over a month with our extended stay menu.
THIS IS THE PLACE TO STAY IN OTTAWA.

Google Review

This is THE place to stay in Ottawa. The location can not be beaten. The staff made us feel like VIPs from check-in to check-out and were extremely warm and friendly. The room and common areas were absolutely spotless. The view from the Skylounge is absolutely stunning, by far the best views I have ever experienced. The only downside was having to leave. We will most certainly be back!

2022-01-01
GREAT FRONT DESK STAFF...

Expedia

Great front desk staff, awesome facilities, steps from parliament — highly recommend

2021-09-01
EXCELLENT STAFF, EXCELLENT INTERIOR, EXCELLENT COMMUNICATION.

Google review

Excellent Staff, Excellent Interior, Excellent communication. So easy to work with. Just an amazing experience overall. More than satisfied. Thank you again!!

2021-09-01
COULD NOT HAVE CHOSEN A BETTER HOTEL FOR MY BUSINESS TRIP IN OTTAWA

Travelocity

Could not have chosen a better hotel for my business trip in Ottawa. Hotel staff was helpful, responsive and very friendly. The room was clean and modern, with up to date appliances

2021-09-01
Expedia

The location is perfect! Close to everything downtown, we did not use the car for 3 days. The apartment is beautiful and clean. The staff was friendly and helpful. We loved our stay at reStays Ottawa

2021-09-01
Tripadvisor review

Loved restays Ottawa...exceeded our expectations all around, especially in the area of customer service/satisfaction. A special thank you to Rahel who made every effort to make our stay the best it could be and had a level of professionalism that you don't find everywhere. Any company would be lucky to have her on their team. I wish I took note of every person's name that we dealt with a the reception desk, as they were all excellent. Clean, roomy and A+ location. Looking forward to returning.

2021-08-01
...IT WAS SO GOOD, WE EXTENDED...

Hotels.com

We had am amazing stay at the hotel. In fact, it was so good, we extended it by another day. The hotel was beautiful and the location couldn't have been better. Everything was within just a few minutes walk. We would recommend checking out the cafe on the corner of the block for some amazing morning coffee and pastries.

2021-08-01
...WALKING DISTANCE FROM THE BEST OF OTTAWA...

Expedia

This is the best place to stay in Ottawa the staff is super friendly and the location is a walking distance from the best that Ottawa has to offer. The room was super clean and modern and had everything we needed. The room service was super fast and went out of there way to provide for our needs no matter the time. This hotel is a steal and I will be staying here every time I am in Ottawa! :)

2021-08-01
HONESTLY THE NICEST HOTEL MY WIFE AND I HAVE EVER STAYED AT

Expedia

Was honestly the nicest hotel my wife and I have ever stayed at. Nice location. And amazing atmosphere!

2021-08-01
OUR BEST OFFERS & PACKAGES
Stay a Little Longer
Enjoy the perks of staying with us a little bit longer alongside your spacious suite that includes a full kitchen, washer and dryer, balconies and terraces, and dreamy amenity spaces.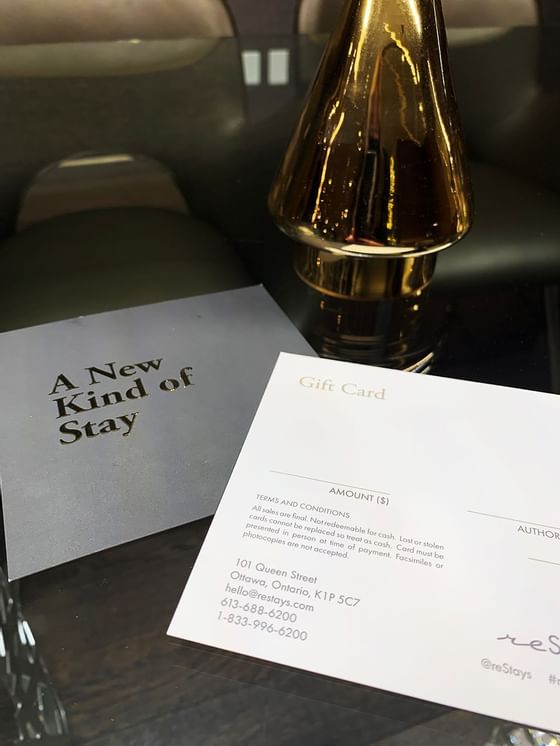 GIVE THE GIFT OF A LUXURY STAY
Give an experience that will last a lifetime of memories this year! Ask our concierge about our gift certificates or call 613-688-6200 | Toll Free 1-833-996-6200
WORLD-CLASS HOTEL AMENITIES & PERSONALIZED SERVICES
SIGN UP & ADD A LITTLE LUXURY TO YOUR DAY
Follow/tag us @restays - We'd love to see your stories #newkindofstay