Get ready for the Canadian Tulip Festival!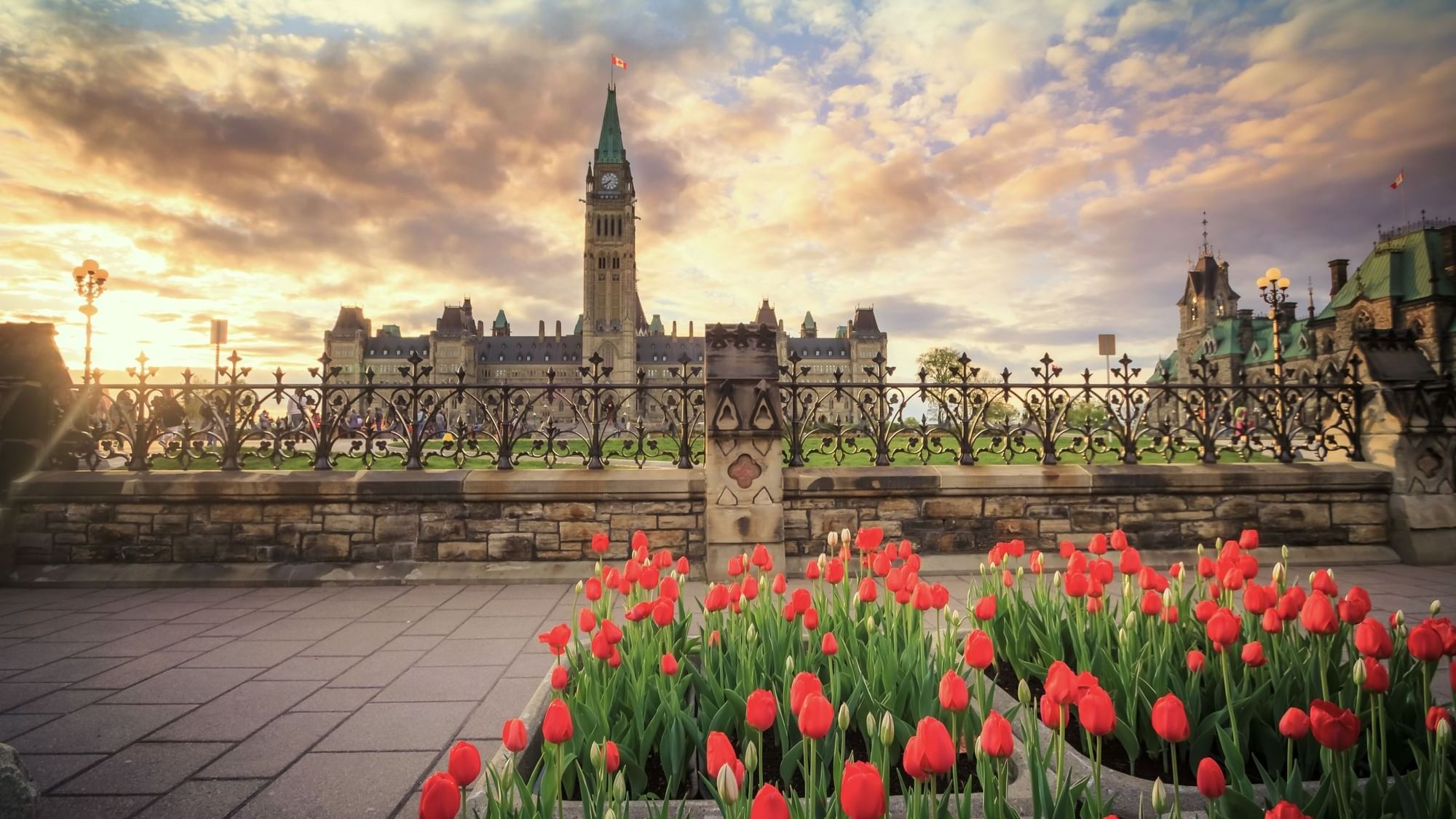 Spring will soon be in bloom, and that means one thing if you're travelling to Ottawa – the Canadian Tulip Festival is around the corner. This year, Ottawa's most fragrant festival takes place from May 12 to 22 and promises a plethora of tulip-themed activities and entertainment. Here's what to expect at the 2023 edition of the Ottawa tulip festival.
Historic Tulip Tours
Curling around beautiful Dow's Lake, verdant and peaceful Commissioners Park is the home of the festival. That's where you'll find over 300,000 tulips bordering tranquil walking paths during tulip season in Canada.
To get more back-story with your stroll, opt for the festival's Tulip Legacy Walking Tour. A professional guide will share historical and horticultural know-how on the different tulip species. You'll walk by the statue of The Man with Two Hats and Heritage Canada's Dutch-Canadian War Brides display. The crowning jewel of the guided walk is the Queen Juliana Gift Bed, showcasing the tulips gifted to Canada by the Netherlands. Canada offered shelter to Queen Juliana and her daughters during the Nazi occupation of the Netherlands. Once she returned home, the grateful queen started sending tulip bulbs back to Canada. In 1963, we had amassed enough bulbs to launch the very first Tulip Festival. There's a historical tidbit to wow your guide with!
History gets an interactive twist during the Ghosts of the Glebe Walking Tour, taking place daily starting at 8 p.m. On this tour, your guide is a Women's Royal Canadian Naval Reservist who tells haunting stories related to the tulips and World War II. It's an emotional and unique experience that's not to be missed.
Tulip Time with Kids
The Canadian Tulip Festival offers tons to do for the tiniest tulip fans. Bring your kids to Tulip Town in Commissioners Park and challenge them to a game of giant chess and checkers, or release their inner artists over at the Tulip Chalk Wall Activity and the group crafts table.
For night owls big and small, the Blacklight Boardwalk showcases tulips in a different light every night of the festival between 8 p.m. and 10 p.m. The blacklight allows visitors to see tulips like butterflies and bees do. It's the perfect opportunity for a mind-blowing natural science lesson about tulips and their pollinators.
Make sure to read our 6 Things to Do in Ottawa with Kids blog for more Ottawa family vacation tips.
Bouquets of Entertainment
Beyond and around Ottawa's tulip gardens, the festival also promises a full calendar of daily entertainment. Get a front-row seat for free movies in Commissioners Park at Movies & Tulips with viewings at 2 p.m. and 7:30 p.m. every day, weather permitting. Bring your own food and blanket or purchase a Tulip Festival blanket as a useful souvenir. Gourmet treats will also be available from on-site vendors. Look out for a breath-taking display across the waters of Dow's Lake every day at 9:15 p.m. The Sound & Light Show will tell the story of the HMCS Haida, Canada's most famous warship and the last Tribal Class destroyer ship in the world.
A Flowery Stay
Whether you're visiting Ottawa for the weekend, or for the entire ten days of the Canadian Tulip Festival, book with reStays to enjoy suites that blend complete comfort with world-class luxury. A spacious suite that feels like home is especially ideal and appreciated when you're spending all day at an outdoor event.
Our stunning condo-hotel is located a short, scenic walk along the Rideau Canal away from the festival, where you can also spot beautiful tulip beds. Alternately, our partnership with Escape Tours Rental makes it easy for you to rent bikes and enjoy a 20-minute ride to Commissioners Park. You could also hop on the Tulip Festival Shuttle that stops at nearby ByWard Market. Don't miss this year's Canadian Tulip Festival to see our capital at its most colourful!
Just in time for the Tulip Festival, book and stay two nights and more in our One-Bedroom, Two-Bedroom and Signature Suites and get 50% off your second night.
Click here to return to our blog area.